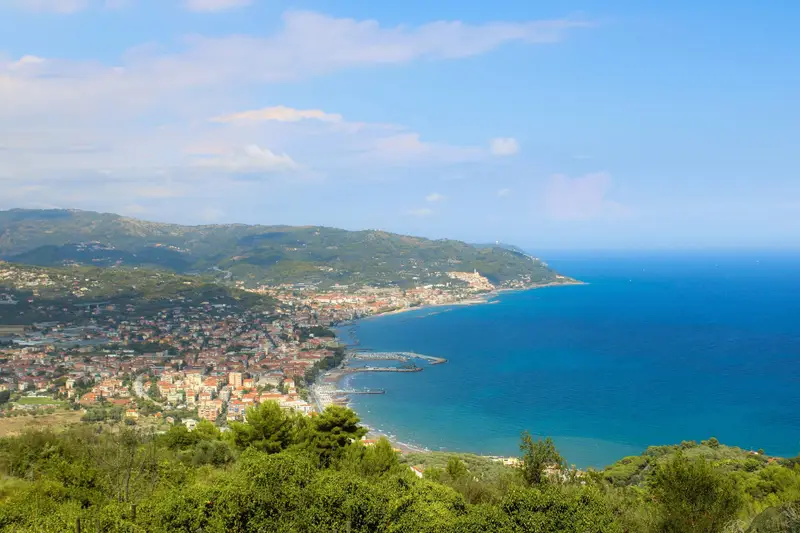 Beaches and Surrounds
What to do in the immediate vicinity
comprising beaches, sports and historic villages
Flanking the Golfo Dianese, a pretty stretch of coastline along the Riviera Ligure di Ponente, Diano Marina is a lovely beach resort with many attractions for adults and children. Fully-equipped beaches, sports parks, cycle paths and a series of characteristic villages are all to be discovered. A holiday in Diano Marina is an experience that never gets boring.
Beaches
Diano Marina is home to some of the most beautiful beaches in Liguria. A long sandy beachfront resort – or, lido – with a sloping seabed is surrounded by the scents of Mediterranean scrub. Just a few minutes' walk from the hotel are fully-equipped bathing establishments such as Bagni Nettuno, B.B. Sport and Lido Scogliera. All boast excellent value for money and are ideal for safely taking a dip and enjoying water sports.
Diano Marina Bike Park
The Diano Bike Park attracts fans of enduro, freeriding and other disciplines from all over Europe. The Park unfurls at low altitudes with trails directly along the first hillside, offering exceptional views of the Golfo Dianese and the Golfo Andora. On a clear day, you can even make out the cape of Finale Ligure.
Dianese Outdoor
Trekking, trail running, urban walking, freeriding, cross-country ... Dianese Outdoor is a paradise for lovers of open-air sports. Steep slopes are perfect for mountain bikers, with nature trails to jog along or to take long walks through the Mediterranean scrubland.
L'Incompiuta Cycle Path
L'Incompiuta is a seafront road that connects the municipality of Diano Marina with the municipality of Imperia, travelling along the route at the base of Capo Berta. Dotted with incredible beaches and characteristic coves, this cycle path is a true beauty to see, as a picturesque place to cycle or stroll along surrounded by lush vegetation.
Ligurian villages
The ancient villages are a must-visit for anyone staying in Liguria. These small hamlets perched on the ridges of the hills are rich in history, culture and traditions, where life flows slowly dictated by the rhythms of nature. Cervo, Diano Castello, Dolceacqua, Seborga, Triora, Valloria and Apricale are just some of the villages not to be missed and easily reached from Diano Marina and Hotel Olympic.
Excursions to the Costa Azzurra
Diano Marina is only a few kilometres away from the Costa Azzurra. Treat yourself to a trip to the most beautiful locations beyond the Alps: Nice, Monaco, Monte Carlo, Cannes ... a plethora of unmissable destinations awaits you just across the border. Contact the hotel staff to find out more.
Hotel Olympic
Via Davide Gaggero 10 - 18013
Diano Marina Liguria (IM)
VAT No.: 00286330089
CITRA: 008027-ALB-0039